DxO has announced updates to its PhotoLab 6 and Viewpoint 4 software packages, adding artificial intelligence (AI)-powered features and new tools for photographers.
PhotoLab 6 adds powerful new artificial intelligence (AI) technology to its denoising, advanced color management, improved retouching tools, and several improvements to its library system, while ViewPoint 4 adds a new powerful ReShape tool that uses with local adjustments, improved cropping and rotation, better enhanced alignment guides, a more refined user interface, and added full Apple Silicon support.
The most prominent feature of the latest flagship version of DxO PhotoLab(6) is DxO DeepPRIME XD (Extreme Details), an AI-based RAW conversion technology that, according to the company, "redefines the industry standard for denoising and detail enhancement" . This new mode will allow better preservation of detail and reduced noise in RAW files shot by photographers using high and extremely high ISO settings. Using machine learning, the software can remove noise, retrieve previously unseen details, and restore vivid natural colors to images that would otherwise be archived and unused.
The company says the neural network used by DeepPRIME XD has been trained using billions of image samples and can provide photographers with more than 2.5 stops of improvement. This means that images shot at 4,000 ISO will look closer to images shot at 500 ISO in terms of color, sharpness, and overall noise. The company also says DeepPRIME XD can also increase the dynamic range of RAW files thanks to its direct connection to the RAW conversion process, giving photographers more flexibility when shooting in low light conditions. The original DeepPRIME mode is still available for users who want faster overall enhancement of images that require fewer adjustments.
"We were very excited about the response to DeepPRIME in DxO PhotoLab 5, but we knew we could do more," explains Jean-Marc Alexia, VP of Marketing and Product Strategy at DxO. "The new DeepPRIME XD has been in development for a year, and the AI ​​is actually teaching itself how to do its job better. The results speak for themselves."
In addition to vastly improved noise reduction tools, PhotoLab 6 introduces redesigned color processing algorithms, giving users more control over their color management as well as an expanded working color space. With the addition of these tools and the new "Soft Proofing" mode, users can ensure color accuracy throughout their workflow so their images look exactly as they would in silkscreen and fine art prints.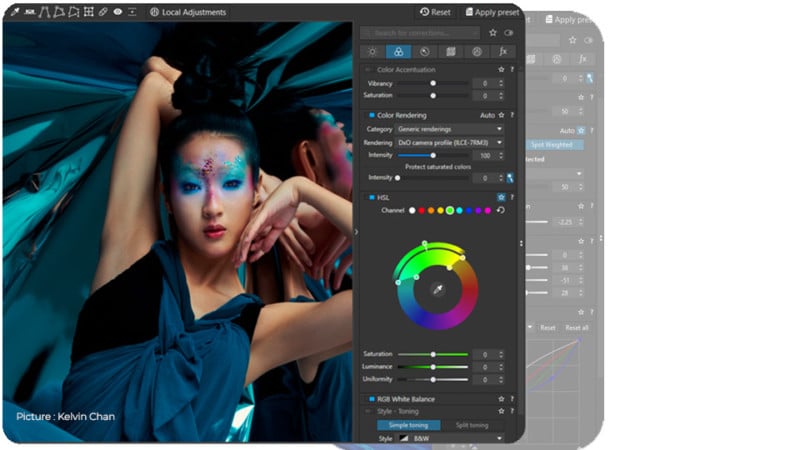 PhotoLab 6 will also see a new ReTouch tool added to the app, which the company says expands repair and cloning capabilities well beyond the capabilities of other RAW processing software, with the ability to mirror, rotate, scale or Use the brush to fine-tune the areas they are editing into more accurate shapes. This new tool/workflow should allow users to perform fewer complex cloning/repair tasks outside of DxO PhotoLab and keep every step non-destructive.
The updated software will also improve the library system for smarter workflows, including an expanded range of EXIF ​​and IPTC tags, item nesting and color tags for easier image organization. Finally, the updated software will include an expanded and improved library of camera and lens configurations (now covering over 77,000 camera and lens combinations) that is automatically downloaded/updated to DxO PhotoLab 6, giving users the most accurate optics in the industry Correction.
The latest additions include Canon RF 24mm f/1.8 Macro IS STM, Nikkor Z 28-75mm f/2.8, HD Pentax-D FA 21mm f/2.4 ED Limited DC WR, HD Pentax-FA 31mm f/1.8 LTD, 43mm f /1.9 LTD, 77mm f/1.8 LTD, and Sigma 18-50mm f/2.8 DC DN | C, 35mm F2 DG DN | C and Sony E 11mm f/1.8.
"We're committed to giving photographers the best possible results from their gear, and we're delighted to add these nine new lenses," explains Marie-Catherine Fargnoli, DxO Product Owner and Lab Manager. "DxO has never used With off-the-shelf lens corrections, no other software company can match the quality of the work we do in the lab."
The ViewPoint 4 update includes powerful new tools that allow users to refine their shots down to the smallest detail. The software gives photographers control over the perspective and geometry of their images, and it becomes even more useful with the addition of a new ReShape tool for local adjustments. This new tool will enable users to fix imperfections in framing, adjust optical imperfections, and rebalance subjects in images better than ever before.
Available as a stand-alone solution or as a plug-in for Adobe Photoshop (Elements and Lightroom Classic), the ReShape tool allows photographers to distort specific areas of an image, and by adding new features to provide enhanced crop and rotate capabilities and more powerful Control guide for precise adjustments. This includes the ability to rescale curved architectural details or damaged patterns so that the image can have "greater impact and balance".
Fabrizio Dei Tos, Product Manager at DxO, explained: "We created ViewPoint 4 as the next step in DxO's continued pursuit of optical and imaging perfection. The ReShape tool is the best solution for distorting local details, providing photographers with a truly powerful solution. ViewPoint 4's other upgrades expand and improve its usability, so whether you're perfecting architectural images, ensuring undistorted landscapes, or improving group portraits, this is the software you need."
In addition to this powerful new feature, ViewPoint 4 includes the ability to quickly flip and mirror images, as well as provide enhanced integration between crop and level tools for a smoother workflow when making these adjustments. This also includes the ability to add guides to adjust vertical and horizontal lines more accurately.
DxO PhotoLab 6 is available in basic or elite versions, priced at $139 and $219, respectively. DxO ViewPoint 4 is available for Windows and macOS for $99. Existing users can also get the upgraded version at a lower price. Both applications can be purchased from the DxO online store. Full one-month trial versions of DxO ViewPoint4 and PhotoLab 6 are available on the DxO website.