SIOUX CENTER—Two staff members at Sioux Center Christian School turned notes from the bus ride home into an adventurous children's picture book, released in October.
With "Beloved," written by Jill Van Soelen and Lori DeJong and illustrated by Lori DeJong, readers are invited to discover with grade-school-age Maggie what it means to be invited into God's story.
"Everyone is loved by God, or deeply loved," said Van Soren, director of teacher development at the Sioux Christian Center. "In the transformational framework teaching our school engages in, students have a deep desire to find their place in God's epic love story for the world."
But how do you share this information in a way that is more accessible to younger children?
About four years ago, Van Soren and another kindergarten teacher pondered this question on the bus ride home after a day of working with staff at Sioux Falls Christian School.
"We started dreaming about what it would be like to create a story of a little girl who was invited into God's story," said Van Soren, who has held other roles at Christian schools over the past few years, including classroom teacher and school librarian . She is also the parent of three children.
"It is my deep desire to help foster a continuing love of learning and growth among teachers," Van Soelen said. "Writing a story feels like a tool for teachers and parents to show students how they see themselves as part of a larger narrative of God's larger story, and that God has a purpose and plan for them in that larger story. "
Many meetings and revisions along the way developed the story, but Van Soelen says it's not complete without any visuals. That changed after De Jong, an art teacher in grades five through eight, spoke in the school chapel about what it means to be made in God's image and to be a creator.
"Hearing her speak and knowing that she is passionate about art and students—she felt like a good fit to create the artwork for this book," Van Soelen said. "Lori took this book from cutouts to stunning creations. Her attention to detail is so evident in this book."
Illustrating a children's book is the fulfillment of a dream DeJong has had for nearly a decade.
"I have a bunch of books on how to illustrate children's books," she said. "This is a message I poured into many years ago, but living with four children and teaching is the main focus. I've always wanted to illustrate a book one day, so when I thought about illustrating this book, I knew I'd like to try that."
DeJong created the illustrations for this book inspired by her four children, her adventures, God's creation, and her backyard. In fact, the book's protagonist, Maggi, was particularly inspired by de Jong's daughter, Micah.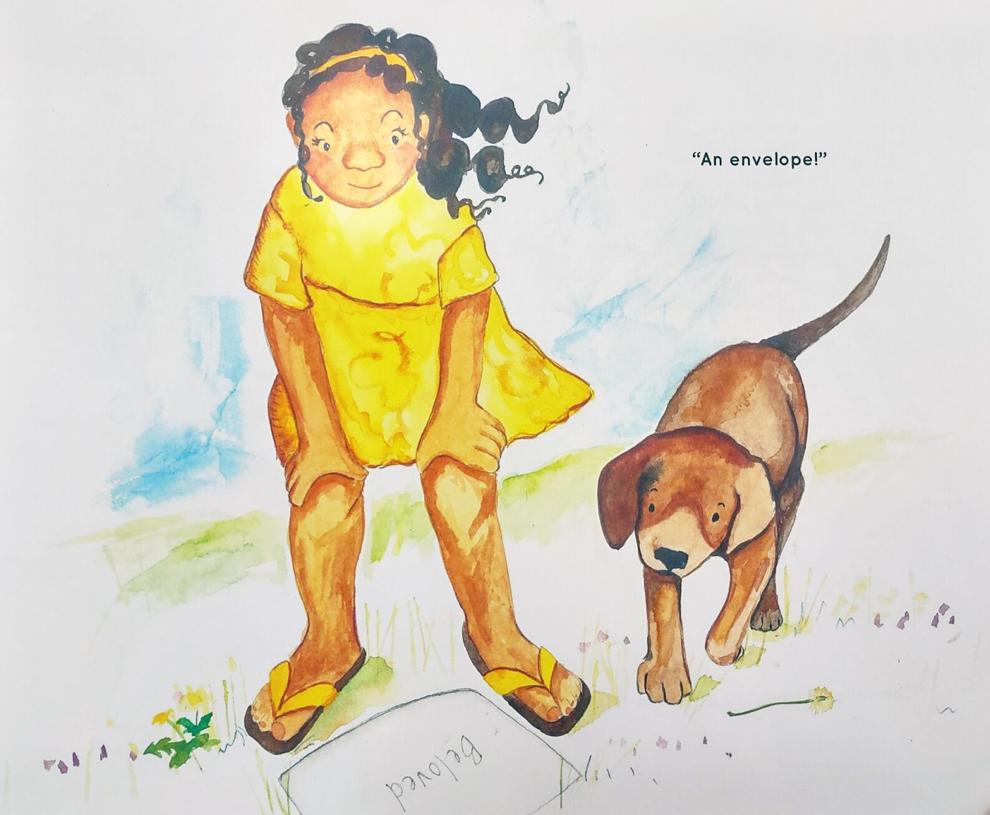 "My daughter is about the same age as the little girl we envisioned for this book, so I actually had my daughter pose for pictures and do various activities, because one of the things about children's books is showing the characters in action, movement and life ,' said De Jong.
Set in spring, DeJong's illustrations help show the passage of time as the characters reflect her personal invitation from God in the story and her discovery of the caterpillar and its growth and transformation into a butterfly.
Since one of her sons is interested in insects, she witnessed the transformation of several caterpillars in DeJong's home, and her personal observations can be incorporated into her illustrations.
"Having a lot of my family members be part of the inspiration for the illustration was fulfilling, and I feel like that's why it's so well illustrated — because it's real," says de Jong. "As an artist, you create what you know. This book feels natural to me because I know these things, because I've been through them."
Once the painting was complete, the pair invited other Christian school staff and some community members to review the book's pages for feedback before contacting Dordt Press for publication. The book is officially released the first week of October.
"The timing was really good," De Jong said. "We had the opportunity to share with teachers at the fall meeting, and publishing a book this time of year provides an option for those who wish to bless others with a gift. I pray that this story will be a blessing for families."
"Our names may be on it, but it was really a team effort; there were many different voices sharing opinions in the creation of this final book," Van Soelen said. "God is good."
.